Takashi Tokita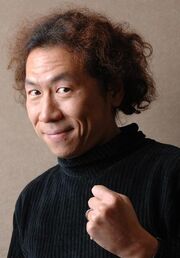 Born January 24th, 1965, Takashi Tokita (時田 貴司, Tokita Takashi?) is a game developer for Square Enix and currently the head of its development divisions. He joined the company in 1985 and, just like his fellow staff member Kazuhiko Aoki, he played several roles in the development of Final Fantasy series, ranging from Director to Supervisor.Tokita got into the video game industry when he originally went to Tokyo to become an actor at the age of eighteen, but saw an advertisement looking for a graphics designer at an old software house.He was initially a part-time employee doing graphic design work and sound . After that , He switched to full-time when he became the lead designer of Final Fantasy IV in 1991.Tokita feels that Final Fantasy IV is the first game in the series to really pick up on drama and the first Japanese RPG to feature "such deep characters and plot".
Other than his work on the Final Fantasy series, Tokita has a few other projects at Square Enix to his name. He has directed Chrono Trigger and produced the Hanjuku Hero series and Nanashi no Game for the Nintendo DS. These projects were slated for English localizations, but were cancelled by focus groups. Tokita has expressed an interest in creating games with quirky characters. His other notable work was Live A Live, a choose-your-own story RPG for the Super Nintendo, which never left Japan. To an extent, this game was the basis of the idea for the tales in The After Years.Tokita is also well known for having directed Parasite Eve and written the game's story but later games in the series have been handed off to other director.
Trivia
A debug item in The After Years named the "Tokita Sword" was named in his honor. It gives any character equipped with it maximum stats and can break the damage limit of 9,999.